Click here to view original web page at www.eventbrite.co.uk
For those of you in #Manchester and #NorthWest interested in #BIM and #DigitalTransformation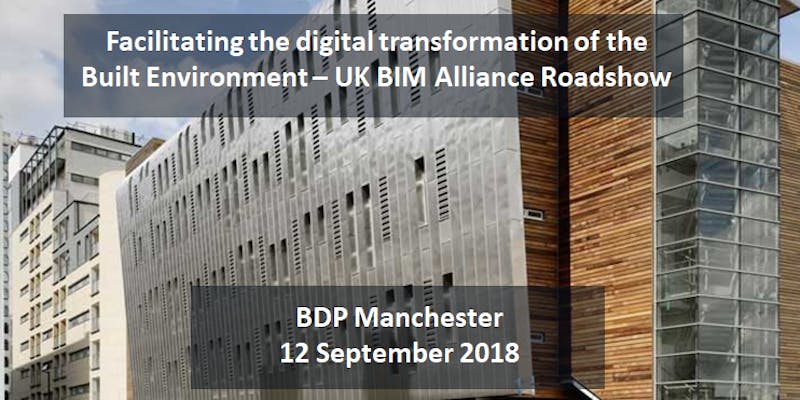 FACILITATING THE DIGITIAL TRANSFORMATION OF THE BUILT ENVIRONMENT
Join us on our tour to hear more about how the UK BIM Alliance is facilitating the Digital Transformation of the Built Environment with and for the Industry. Alongside news from the Alliance, including buildingSMART updates, there will be real-life examples and case studies shared by the industry.
On September 12 we are in Manchester where we have a number of different speakers who are sharing their thoughts on "How & why you implemented BIM within your business and what, if any, difference it has made to the business highlighting any specific projects".
Facilitating the Digital Transformation of the Built Environment
Wednesday 12th September 2018
BDP, 11 Ducie Street, Manchester
2.30pm Registration & Networking, 3.00pm Presentations start

After a quick welcome and update on what BIM Regions North West are doing by Jill Guthrie , the presentations will start with the UK BIM Alliance. The speaker will share the latest updates from the Alliance including news about the projects the Alliance are working on as well as a standards update and let you know how you can get involved. Richard Gordon from Tace will be talking about projects he has been involved in whilst providing mechanical and electrical design services. Representing the Manufacturer will be William McAvoy from Citu who are an offsite manufacturing company who have the aim to accelerate the transition to zero carbon cities/ Our final speaker is Alistair Kellwho has the role of Principal & Head of Information Technology and Process at BDP and will talk through how they have implemented BIM throughout the organisation.
All of the speakers will be sharing their experience in the world of BIM giving you the opportunity to ask them any questions. If you would rather not ask publicly at the event, then there is a box to enter your question when you register.
This will be a through provoking event so book your seat today and we look forward to seeing you all on Sept 12.
Kindly sponsored by